It was a sunny Saturday at STAGS Cineplex for the long awaited screening of
Romans v Romans.
​
David and Goliath, Alien vs Predator, College Coeds vs. Zombie Housewives – this was going to be bigger!The firsts had nearly all their cast available while the 2s were weakened with several key performers missing, including Tom Osborn out for the season with injury (get well soon Tom) and Ben Rigby still recovering from his major role in The St Albans Pancake Day Massacre.
Lights, camera, action!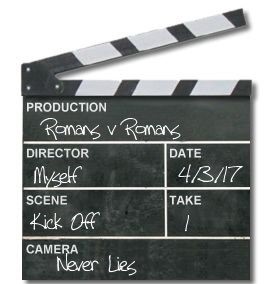 First foul betting proved correct as Matt Harrison continued his fine form from Tuesday's training session.
Early scenes were probably edged by the 1s but neither ensemble were going to win any Oscars for their performance early doors.
Nominated for Best Comedy Performance – Mark Nott Snr. for his starring role in "Who Says We Can't Have Two Goalkeepers?" (cue scene of Mark running towards halfway line as if it was actually a goal kick!).
The 1s began to perform for a couple of scenes and a fine effort from Durelle rattled the bar after a good move down the right.
But the plot had a twist.
Harrison scores! Look at his face, just look at his face.
Yes, Matt Harrison followers were delighted as their "first foul, first goal" doubles came in.
A poor free kick from the acceptable face of the Nott clan prompted a late "Best Comedy" entry as the, usually reliable, stopper Toby managed to chest the ball rather than catch it.Romans 0 Understudies 1. Time for the 1s to get their collective A's into G surely?
But wait.
Davies fancied a piece of that Academy Award pie too.
According to IMDB: "besides running around train stations with his trusty companion re-enacting scenes from K-9, Sam loves nothing more than a good game of volleyball". Perhaps a more lenient ref would have just admired his perfect demonstration of the "forearm pass" but the official was obviously in "football mode" and a penalty was awarded.
Up stepped Big Mike for his chance in the spotlight and, despite the pressure of knowing there were 20 plus cast members and audience willing him to miss, he delivered his only line straight down the middle like the big thespian he is.
​
The audience were stunned. Romans Reserves were 2 up, the first team were starting to do the diva/baby thing and there were no Snickers or dummies anywhere.Half Time
Romans 0 – 2 Romans Reserves
Number 2s in La La Land, Primas auditioning for Moana.
Surely someone had mixed up the envelopes?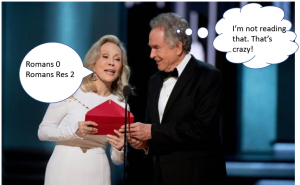 What goes on in the intermission, stays in the intermission but there was no chance of a refund from the box office or James' other half falling for the old popcorn trick so…………………………………….
The second half started and, with the wise words of Director Phil still ringing in their ears, the 1s ensemble picked up the pace and were immediately delivering their lines with a bit more feeling dahling.
Durelle had another shot that hit the woodwork, Chris Ward followed up and repeated the act but it was "third time lucky" for the veteran performer Denton (re)acting quickest to put the ball in the onion bag.
1-2 and plenty of time before the final credits were due to roll. Escape to Victory?
Rising star Durelle finally got his "Best Newcomer" award when he slid home The Equaliser (ok, ok, it's a tv show)..
Before you could get an Ice Blast (mixed) refill, Chris Ward got a third and
even stroppy sub Federici ("Best Dramatic Actress in a Supporting Role") couldn't miss getting in on the action from Rob Ward's perfect delivery.
Rudy chipped in with "Best Dramatic Performance" as he insisted he would have scored had he not been fouled on the edge of the box. This qualified him for the "Best Use of Optimistic Imagination in a Fantasy Screenplay" award.
Jordan Foster made it 5-2 and Burgos 6 with a tap in.
Fittingly, the final act was the best. A great run by Foster was followed by an excellent through ball to meet Burgos' ("Best Foreign Actor") well timed run and it was 7-2.
The 2s can now have a dream sequence about what might have been had they had their full cast available.
For the 1s, a home screening of a quarter final vs Harefield awaits next Saturday.